THIS FEROCIOUS PUG IS THE HERO OF OUR STORY. STRUGGLING TO MAKE SENSE OF HIS TRAUMATIC PAST, PUGZEE SETS OUT ON A JOURNEY TO FIND THE ANSWERS TO WHERE HE CAME FROM, AND IN DOING SO DISCOVERS THE DOG HE IS DESTINED TO BECOME.
THE INSIDE OF PRISON WALLS ARE A FAMILIAR SIGHT FOR THIS TROUBLED CHIHUAHUA. HIS TASTE FOR THE KIBBLE HAS LED PITO TO MAKE POOR DECISIONS, FREQUENTLY LANDING HIM IN PRECARIOUS SITUATIONS. LUCKILY HE IS ABLE TO TALK HIS WAY OUT OF TROUBLE WITH HIS CHARMING AND WITTY PERSONALITY.
LIVING ON THE STREETS FORCED THIS BULL TERRIER TO MAKE HIS WAY WITH HIS FISTS. WHEN HE CROSSES PATHS WITH PUGZEE, HE FINDS THAT THERE IS MORE TO LIFE THAN JUST FIGHTING.
A SENIOR VETERAN, THIS GREAT DANE FINDS SOLACE IN HIS ART. HE IS THE VOICE OF REASON AND ENJOYS NARRATING THE ADVENTURES OF HIS LIFE. GREAT DAN IS OFTEN SOUGHT OUT FOR HIS WORDS OF WISDOM AND ADVICE.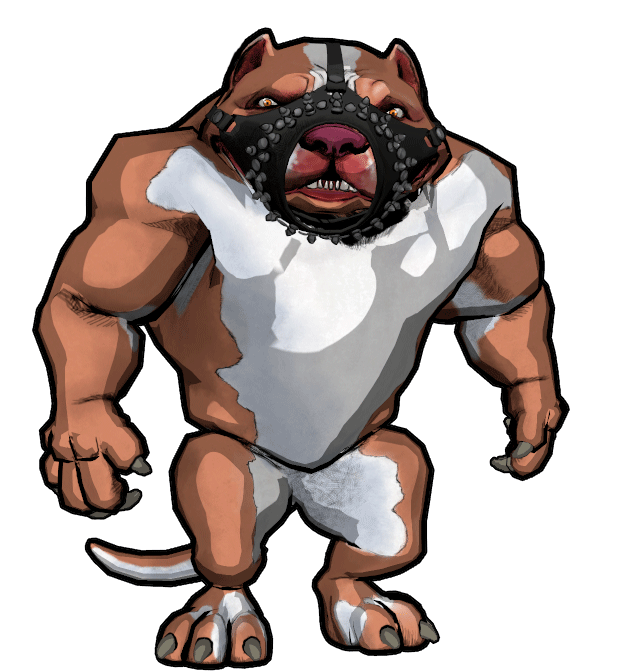 CHAPO IS AN OVERGROWN PITBULL BULLY UNAWARE OF HIS OWN STRENGTH. TO HIS DISMAY, HIS SIZE MAKES OTHERS RUN IN FEAR, WHEN ALL HE WANTS IS TO BE FRIENDS.
THIS REBELLIOUS DOBERMAN STRUGGLES TO RELATE AND GET ALONG WITH OTHERS. HOT-HEADED AND QUICK TO QUARREL, MOOSE FINDS HE CAN ONLY TRULY EXPRESS HIMSELF THROUGH HIS POETRY.
THIS POODLE OFTEN STRIVES TO BE THE CENTER OF ATTENTION. POOCHIE LOVES TO JOKE AND MAKE LIGHT OF EVERY SITUATION, AND IS THE BEST BARBER ON D-BLOCK.